Meet
Quadrobit
Your new Smart Home
We will change the way you think about Smart Home.
We made it affordable, easy, secured.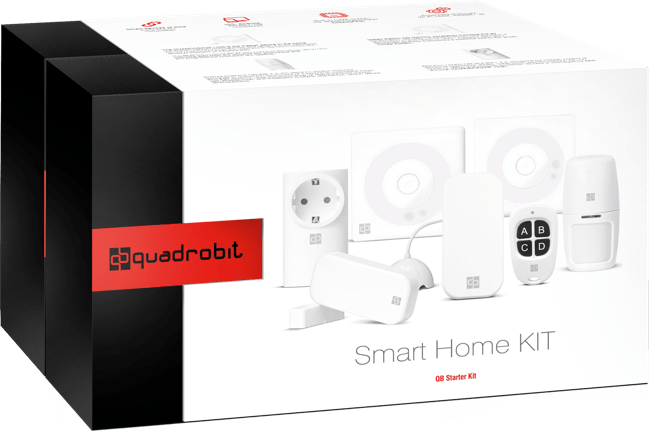 IP cameras with recording into the "cloud", intercom with 2-ways audio
Weather station. It monitors temperature, humidity and lighting intensity
Blinds and curtains opening system
Water leakage sensors, motorized water valves
Air-conditioning and heating control
Door and window opening sensors
Smoke and CO2 sensors
Lighting remote control
Motion sensors
How it works?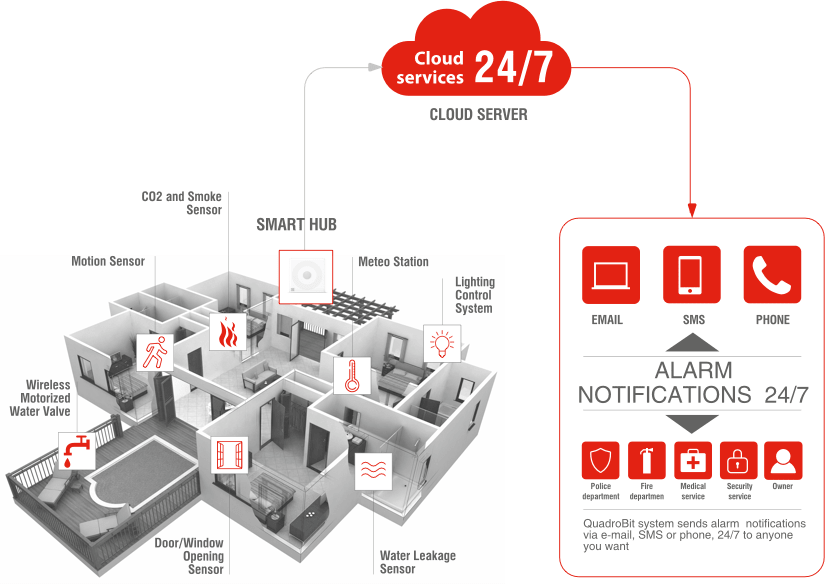 Why
Quadrobit

?
MANAGE DIFFERENT OBJECTS BY ALL MODERN DEVICES THROUGH A CONVENIENT INTERFACE
The system is compatible with iOS, Android, Windows / Mac OS, suitable for home, cottage, apartment, office, garage, car
CONNECT YOUR ACCOUNT TO HOUSING DEPARTMENT OR LOCAL BUILDING-UTILITIES ADMINISTRATOR OFFICES
the system is compatible with various data transfer protocols
CONNECT THE DEVICES OF DIFFERENT MANUFACTURERS TO THE SMART SYSTEM, NOT QUADROBIT ONLY
BE INDEPENDENT FROM POWER SUPPLY AND INTERNET
Thanks to the built-in GSM/GPRS module and an additional battery your smart home system is always online
CONNECT DEVICES WITH DIFFERENT INTERFACES:
Wi-Fi, GSM, 433MHz, ZigBee, Z-wave, Bluetooth
GRANT DIFFERENT LEVELS OF ACCESS, CONTROL AND MANAGEMENT
for different types of users (family members, housekeeper, security)
TAKE CARE OF YOUR BELOVED FAMILY
help older siblings, monitor the behavior of children and pets with a single device
SAVE ON UTILITY BILLS PAYMENTS
The system will calculate and propose the most appropriate energy cost algorithm
SAVE YOUR VIDEO FROM CAMERAS IN THE CLOUD
The system recognizes the faces and numbers of cars
TRACK AND CONTROL YOUR COSTS
Pay the utility bills by one button through the built-in billing system